This post will be more personal than academic. I can't remember exactly how or when I discovered Simeon Solomon (1840–1905), but it was certainly during my first year of university, when I was realising my homosexuality. Here was an artist in the Pre-Raphaelite circle (he was not an original member of the PRB, but a later associate), who, even after being prosecuted for 'homosexual offences' in 1873, produced paintings and drawings that daringly visualised same-sex desire in an era when private sexual activity between consenting males was punishable by law. Being Jewish, he also produced scenes of Jewish religious ceremonies and illustrations of the Hebrew Bible. He can even be credited with writing an important early gay text, the prose poem A Vision of Love Revealed in Sleep, which was privately published in 1871 – two years before his arrest in a public lavatory for attempting to commit sodomy with an unemployed stableman. I would direct readers to the brilliant Simeon Solomon Research Archive for a comprehensive account of his life and work. Yesterday evening I went to Tate Britain to watch a performance of Neil Bartlett's A Vision of Love Revealed in Sleep, based on Solomon's book.
I quote from the information leaflet that was handed out before the performance: 'A Vision of Love Revealed in Sleep, Neil Bartlett's one-man homage to the life and work of Pre-Raphaelite painter Simeon Solomon, was originally created and performed at the height of the first wave of the British AIDs epidemic in 1987. To celebrate the inclusion of Simeon Solomon in the Queer British Art: 1861–1967 exhibition, Bartlett has revived the piece for one night only in a collaboration between Tate Britain and the Live Art Development Agency. This solo version of A Vision of Love was originally commissioned by Battersea Arts Centre, and was first performed there as a one-man show in 1987. It moved to a derelict warehouse at Butler's Wharf, London, where it was presented by the ICA, and then went on a British and European tour in 1988. In 1989–90 the show was expanded to include four further performers and played at The Drill Hall, London.'
After the performance, Bartlett addressed the changed tolerance towards homosexuality in Britain since 1987, and how this might affect the play's relevance – although, crucially, his monologue was for the most part unaltered, and resonated, I felt, just as strongly. Essentially, Bartlett's Vision of Love Revealed in Sleep interwove direct readings from Solomon's 'proem' with the playwright's own reflections on being gay in the late 1980s, shifting seamlessly between the two. Sometimes it was difficult to know when Bartlett was quoting from the text or speaking his own words. The performance lasted about 70 minutes, but it didn't feel as long as that. It took place in Tate Britain's high-ceilinged '1840' gallery. Bartlett occupied a small platform at one end of the space, lit only by two lights from below; behind him, in the shadows, loomed Waterhouse's Saint Eulalia and Burne-Jones's King Cophetua and the Beggar Maid – tall, mythological canvases by two lions of the Victorian art world. Another spotlight illuminated Solomon's A Youth Relating Tales to Ladies, hanging to the left of the gallery. While we were finding our seats, Bartlett stood silent, motionless, and shirtless (in 1987 he performed in the nude). He held aloft a large glowing lightbulb in his right hand, and a rectangular object draped with a long red cloth in his left hand. The cloth obscured his feet, so he looked to be levitating. His gaze was lowered like a priest in prayer, an attitude borrowed from Solomon's paintings of beautiful men absorbed in religious rituals. When we were settled, he raised his head and spoke.
Aware of the play's original contexts, I entered the performance with a question that troubled me: how could I, being born in 1993, ever know or understand the trials and fears of so many homosexuals in Britain in the previous decade? The AIDs epidemic was never a reality for me; I hear about it only through retrospective accounts. It's as removed from my own experience as the Second World War or the Thatcher years. As if to reflect this, I was among the youngest members of the audience – the majority, I would say, were middle-aged and older, and several had probably watched the play when it was first performed 30 years ago. I was conscious of my youth. To watch the piece alongside men who had might have lived the sorts of experiences Bartlett was addressing, was a reminder of how fortunate I have been to come out in a generally tolerant, post-millennium society. (I had a similar feeling when watching the film Pride in 2014, based on true events from 1984.)
Then again, Bartlett's play – or the particular, ever-so-slightly-modernised manifestation of it that was 'revealed' to us that night – is a reminder that there is no single way to be gay, and that what it means to be gay changes over the decades; performing it 30 years later, on 7 July 2017, the present moment became layered over the reality of the 1980s, which was in turn layered over the nineteenth century. Bartlett's (and Solomon's) words have therefore been enriched by the shifts in social, political and cultural attitudes since they were first written and spoken. At several points in the performance, Bartlett addressed us directly with the phrase 'History, eh?' – an addition, he said afterwards, which came to him only when he was rehearsing the piece in 2017, and looking back on 1987 from a different century. He meant not only the Victorian history of Simeon Solomon, but also the place in history that the 1980s now occupies.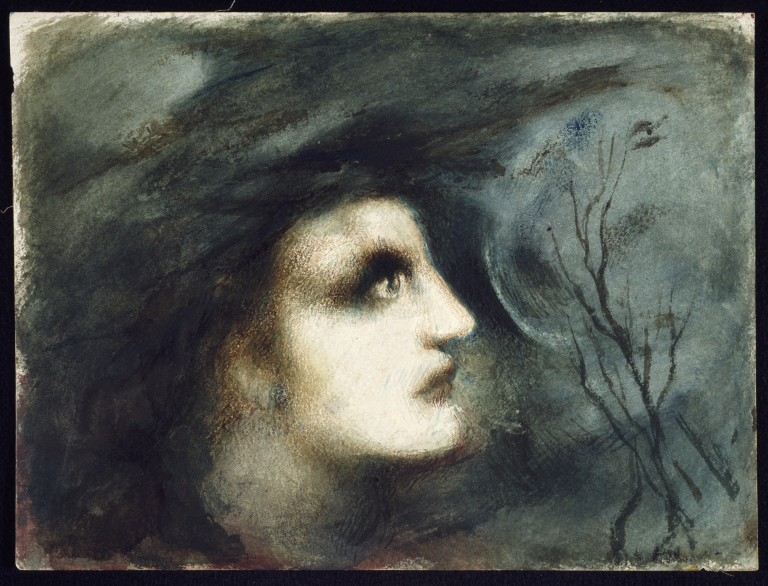 I was deeply moved on a personal level by Bartlett's performance. I attended it alone, and much of the monologue addressed the feelings of isolation and loneliness specific to gay men. At one poignant moment, the quotation from the biblical Song of Songs that provided the touchstone for Solomon's book, 'Until the day break, and the shadows flee away', was cried out by Bartlett as a mantra not just for gay suffering and endurance during the AIDs crisis, but also for the ill-treatment of LGBT individuals then and now. Solomon's art, as well as the original Vision of Love (found in an anthology of gay writing in my university library), had been instrumental to my coming-out process. I'd been too young for the major Solomon retrospective at Birmingham in 2006 (Visions of Love: Simeon Solomon and the Pre-Raphaelites), but I bought the catalogue secondhand and pored over it. Incidentally, the 2006 exhibition represented the culmination of a renewed interest in Solomon's oeuvre in scholarship on Pre-Raphaelitism and Victorian art more generally, having been neglected for much of the twentieth century.
Solomon's inclusion in Tate's Queer British Art exhibition this year solidifies his importance as a homosexual who defied convention and punishment by openly expressing his desires in his work. It lost him many friends in his lifetime, but it gained him many more in the present. At the end of A Vision of Love Revealed in Sleep, as the audience applauded and the lights came up, Neil Bartlett raised a small portrait of Solomon over his head (the red cloth had covered it), so that in that moment we were cheering the latter as much as the former. I sensed the long-dead artist's presence in the electrified air of the gallery, hovering like one of his own winged beings of Love.